The Rockin' Chairs Are Still Rockin' Around The Clock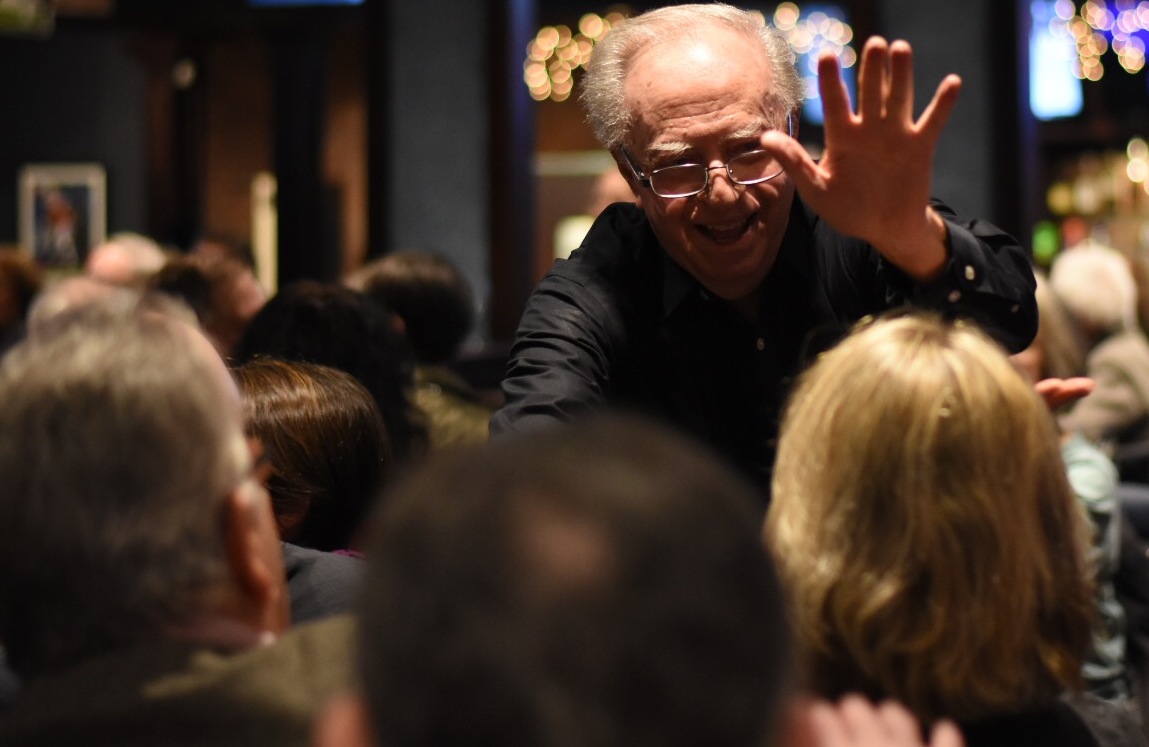 Alan Joseph is terrible at standing still, so he almost never does. There's too much life to reach out for, so he's perpetually on the go.
The Newton resident plays tennis four times a week. He plays in two softball leagues. He was in the advertising business for years, eventually running his own agency. Two years ago he chucked it all to pursue his passion: music. He became the front man in a band.
"He's a force of nature," said his girlfriend, Marjorie Maws.
Oh, did we mention Alan Joseph is 81 years old?
The band is called The Rockin' Chairs. Joseph and his friend, Needham resident Rick Kolow, 64, would jam together. "We always talked about music," Kolow said.
"Rick said 'What do you think about starting a band?'" Joseph recalled. "I told him 'I don't want it to be just another band. I'm too old. I don't want to be playing in bars until 1 in the morning.'"
But what if the audiences were, you know, a smidge on the older side, like the over-55 and retirement communities? That seemed like the right demographics. "We're not a loud, hard-banging, raucous band," said Joseph. The older crowd might work.
So he and Kolow compiled a list of places that fit the type of audience they were aiming for. They made the calls. Shows were booked. And since the audiences were of a certain age, Joseph figured they'd harbor fond memories of music of the '50s. He was right.
"Every place we went invited us back," said Joseph. "We found our sweet spot."
There were some doubts at the beginning. "My first thought was who wants to listen to a bunch of old guys?" said Maws. "But the retirement communities just light up when the band performs. They start hootin,' hollerin,' and stompin.''
Word spread. Restaurant/bars have booked The Rockin' Chairs. Private parties, weddings, dances, bar and bat mitzvahs, and graduations all are on the band's schedule. Milt Reder, 66, of Brookline, on guitar, Joe Ethier, 56, of Ashland, on guitar, and Steven Hart, 52, of Quincy, on drums flesh out the group.
Joseph wanted to expand the band's outreach beyond the songs, so he cracks jokes, performs magic tricks, and tells stories about his career. And there's plenty to tell.
Joseph took a fascinating musical journey to get to this point in his life. He grew up in a fourth-floor walkup in the Bronx "four blocks from Yankee Stadium. I saw the Yankees in their glory days, the late 40s to mid-50s. I saw DiMaggio, Mantle, Yogi play."
He got in the advertising business and stayed with it when he moved to Newton, where he started his own agency in 1973. "I did some freelance advertising for a couple of years, then I got a call from Staples, which was headquartered in Framingham. They needed me for one week to write copy, but they kept asking me back for the next seven years."
But in his 70s, it was all about the music. A thread of show business ran through the family. His father, Jim, was a professional musician. "I guess some rubbed off on me," said Joseph. His mother, Helen, was a classically trained pianist. "I listened to pop tunes and Chopin."
Then, as a teen, "I bought a little guitar," he said. As time passed, his father saw what was on the horizon. "Rock-and-roll was getting popular, and my dad said 'I'll let you get in the business as long as you don't make it a career.' I promised."
Perhaps the kid had his fingers crossed behind his back.
In his early musical years, Joseph either played backup guitar or got to rub elbows backstage with numerous rock 'n' roll legends. Ray Charles, Bobby Darin, Dion and the Belmonts, Little Richard, Chubby Checker, the Rascals — later the Young Rascals.
Joseph's wife, Judie, who died in 1998, went to high school with Phil Everly of the Everly Brothers. "Phil and I would play together," said Joseph.
Out on the playing fields, Joseph is a member of two Eastern Mass. senior softball teams, ages 50 to 80-plus. Most of the games are in Wayland. When the ever enterprising Joseph found out 300 to 400 guys played in the league, he reasoned "they'd be a good target audience for our band." He spread the word. And the ballplayers would show up at The Rockin' Chairs gigs.
"We won the championship this year," said Joseph. "It was exciting to be the 81-year-old winning pitcher."
Maws met Joseph on a blind date. "I was in London, and a friend wanted me to meet him, so I did when I got home," said Maws. "We went to a restaurant on Needham Street, and he was just delightful, upbeat and a little different. I think we liked each other right away."
Maws returned to London. Joseph visited. "We went to see the play 'Buddy,' about Buddy Holly." The romance was on. And it could have a long run despite their advanced ages. "His mother lived to be 102," said Maws.
So who is Alan Joseph? "He's a sweetheart, energetic, involved, a consummate showman," said Kolow. Eighty-one is just a number to him. No reason to be on the sidelines. With the band's gigs lined up, it's still showtime. Got to get moving.
"The Rockin' Chairs Rock Out Against Cancer" takes place Dec. 29 from 7 to 8:30 p.m. at Victory Grille, 233 Elm St. Dedham. For more information, visit therockinchairs.com.