The Rockin' Chairs keep the old tunes rockin' in Newton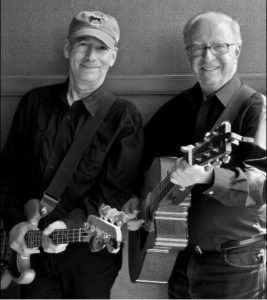 By Ed Symkus, Correspondent
A typical set of music at a show by The Rockin' Chairs begins with "Stuck on You," a song Elvis Presley recorded in 1960, and ends with the Everly Brothers' first hit "Bye Bye Love," from 1957.
As those will likely be the opener and closer when The Rockin' Chairs perform at Union Street Restaurant in Newton on Nov. 8, guitarist and singer Alan Joseph – who cofounded the band last year with bass player Rick Kolow – gave a brief explanation of those choices.
"One of the reasons we start with 'Stuck on You' is that it isn't a high-energy driver," he said from his home in Newton, "and it gives me something to build on."
Though Joseph also spoke about his love of Everly Brothers music, perhaps it would be best to leave that part to hear at the show, where he likes to insert stories about the songs the band is performing, and he'll likely talk about his stint playing guitar and bass with the Everly Brothers.
The rest of the program will be cut from the same cloth, with songs including, among other '50s- and early-'60s-era material, Chuck Berry's "Johnny B. Goode," Bobby Darin's "Dream Lover," and Johnny Cash's "I Walk the Line."
Joseph, 81, who had a long career in advertising, initially in New York, then in Boston, got his first guitar – he believes it was a $10 Stella – when he was 12. He took to it, and within a few years his dad, a professional pianist with regular club dates in New York, made a deal with him.
"He said to me, 'I'll get you into the club date business if you promise you will only use it as a sideline; do not do music full time; it'll break your heart'," recalled Joseph. "I said OK, and I started playing club dates."
The day job that he promised he would keep was in advertising, and a switch of agencies eventually brought him to Boston. But he never put down his guitar, and he never lost the love he had for the music of his youth, from country to blues to R&B to rock 'n' roll.
Then last year some light bulbs went off as he was chatting with his tennis pal and Needham resident Rick Kolow, who's in his mid-60s.
"Rick had a musical background, and while we were talking, he said, 'Would you be interested in putting a band together?' I said, 'What the hell. I'm only 79,' " recalled Joseph. "We did it just for fun, then we started thinking maybe there's something here. But I said I didn't want it to be just a rock 'n' roll band, that I wanted us to carve out a niche. I told him I'd been thinking about the idea of it being a show. I didn't want to play in bars from 8 till 1 in the morning. I wanted to find our demographic sweet spot."
Joseph even had a target audience in mind: the over-55 communities that had people who grew up listening to 1950s rock 'n' roll. The band would play classic songs, he would write some copy – after all, he was in advertising – that would include stories about the songs. There would be a few jokes, maybe a little magic … a show. They put it together, got some gigs at those over-55 communities, then decided to try out a few public spaces.
"Our first one was at Ryles in Cambridge," said Joseph, "and we had 99 people in the audience! It went beautifully, it was exciting to play a real venue, and that's when we realized it was doable."
Though they happily continue to work the communities scene, they've also since played at the Victory Sports Grille in Dedham and Paddy's Pub in Newton. The lineup for their first gig at Union Street will be Joseph on lead vocals and rhythm guitar, Kolow on bass, Quincy-based Stephen Hart on drums, and at this show, Brookline's Milt Reder on lead guitar. The three musicians will also contribute backup vocals.
Joseph has put together three different set lists, each of which is aimed at different performance settings, with a total of 19 songs to choose from. If this show, like so many others, does begin with the mid-tempo doo wop-style "Stuck on You," and the band does indeed, "build" on it, and they get around to some Little Richard, things might just reach fever pitch with "Lucille."
The Rockin' Chairs play at Union Street Restaurant in Newton Center on Nov. 8 at 7:30 p.m. Tickets: $10, with a portion of proceeds going to The American Cancer Society. Info: 617-964-6684.